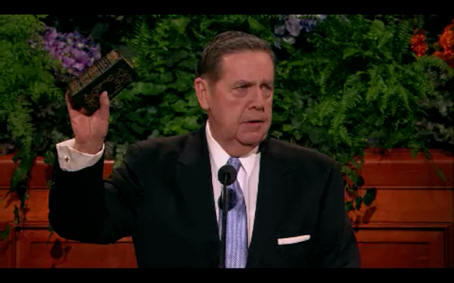 Elder Holland angrily defends the historicity of the Book of Mormon
LDS General Conference, October 2009
There has been an apologetic firestorm in response to questions raised by DNA about the historicity of the Book of Mormon. Links to much of this scholarship have been provided on official church
websites
. However, this academic kerfuffle took place some time after my first personal interactions with senior leaders of the church and LDS apologists. I observed a striking contrast between the way I was treated by local leaders, who trusted and respected me, and more remote senior leaders and apologists who instantly treated me as a critic and enemy of the church. This is an account of those interactions.
I first came across DNA research on Native Americans in July 1998 when I was serving as a bishop of an LDS ward in Brisbane, Australia. Over a period of about 2 weeks I read about 30 research papers that presented the mitochondrial DNA lineages of about 2000 American Indians from about a hundred tribes scattered over the length of the Americas. It was clear that over 99% of their DNA was derived from
Asia
and was probably brought into the Americas in excess of 12,000 years ago. DNA studies also showed that the female ancestors of the
Polynesians
came from South East Asia and not the Americas.
For two weeks I wrestled with the research. I struggled with the complete discrepancy between the research and my understanding of the Book of Mormon and the doctrine of the Lamanites. Like all Mormons I knew, I believed that Native Americans and Polynesians were largely descended from Lehi. This doctrine had been reinforced in my mind by every aspect of the Mormon culture I was immersed in. I knew many Polynesians in the church in Australia and they all thought of themselves as Lamanites.
For most of this 2-week period I firmly believed that the Book of Mormon was true; but I also had a growing knowledge that Native Americans were not related to Israelites. The intense
cognitive dissonance
this created was eventually resolved on the 3rd of August. When I woke up that morning I no longer believed that there were any Lamanites to be found. I no longer believed that the Book of Mormon was a historical document connected with the true origins of the American Indians. This was a devastating discovery that had an immediate impact on many other beliefs. Since I had based my testimony on the truthfulness of the Book of Mormon, as many
prophets
had counselled me to do, my belief in the truth claims of the church were also severely compromised.
If I had not been the bishop I could have quietly dealt with this challenge to my faith. But I was the bishop and I had severe doubts. To continue in my calling was unthinkable. I had no alternative but to ask to be released. I met with my Stake President two days later and asked to be released. He asked if I could hold on until a new bishop was called, but I insisted I be released as soon as possible. Within a week I had met with the entire Stake Presidency to discuss my reasons for asking for a release. All local leaders who knew me showed respect and kindness in the way they treated me. Not once did I detect judgement or anger. All of us were upset with what was happening. I was released about two weeks after meeting with my Stake President and a member of the Stake Presidency acted as bishop until a replacement was found. Releasing a bishop and calling a new one is not a simple process, and typically takes about 6 weeks in Australia.
Mormon Apologists
At about the time of my release the Stake President introduced me to a man named Warren Aston, who also lived in Brisbane. I was told that Warren was aware of many challenging issues and may be able to help me solve the problems I was struggling with. I gave Warren copies of a couple of the DNA research papers, we spoke very briefly, and we never met again.
I learned afterwards that Warren Aston was a travel agent who specializes in tours to the Middle East. He is also famous in LDS apologetic circles for discovering a stone in Yemen carrying the inscription "NHM". Aston claims this stone may have been connected with the Book of Mormon location Nahom where Lehi built an alter. Intriguingly, noted Mormon scholar Terryl Givens believes that the evidence Aston has uncovered is among the strongest archaeological evidence in support of the Book of Mormon. Warren Aston is also a noted UFO researcher.
A couple of days after meeting Aston my Stake President rang to say that he had received a fax for me from the Foundation for Apologetic Research and Mormon Studies (FARMS) at Brigham Young University. The fax had the appearance of a published research paper, and was authored by Scott Woodward and John Tvedtnes. Scott Woodward was Professor of Microbiology at BYU and John Tvedtnes was a BYU linguistics scholar who had published numerous apologetic articles on a wide range of subjects.
I was alarmed by the tone and content of this document. Just weeks before reading it I had been faithfully serving in the church. The implication that I was a critic of the church looking for evidence to tear down the Book of Mormon was extremely disturbing. During my release I had never criticized the church. I had also not publicly questioned church teachings. In private meetings I had presented leaders with the facts I was currently unable to reconcile with my beliefs. I was in fact trying to get in touch with senior leaders of the church to discuss the difficulties the DNA research would create for the church in the near future.
I was also very surprised to see Scott Woodward's name on the FARMS document. I had begun corresponding with Scott about the research and he had always been very courteous. We were both trying to identify senior leaders we could talk to about the issues raised by the DNA. It turned out that Scott was unaware of the FARMS document. He recalled having a brief discussion with Tvedtnes several months previously about the DNA issue but that was all. He was very annoyed that his name had been put on the article without his knowledge. To do such a thing in scientific circles would be unthinkable.
Area Leaders
Within a couple of weeks I received another surprise in the form of a letter from the Area President, Elder Featherstone. I had never spoken to Elder Featherstone before. I learned afterwards that he had not even spoken to my Stake President before writing to me. He had written based on second hand accounts of what was going on in Brisbane with a wayward bishop. His letter was clearly intended to fill me with fear and guilt. Fear that I would hurt my mother, family and f

uture generations in my family. Fear that I might shake the faith of others who looked up to me. Fear that the eternal lives of my wife and family would be put in jeopardy. Fear that I would become a "hollow shell" of the man that I once was.
All the people I have spoken to who have known Elder Featherstone agree that he is a genuinely kind man. His letter is simply the natural reaction of a person defending a belief system they are incapable of questioning. In spite of this it was an appalling letter to send and I shudder to think of the number of Mormons who have received similarly abusive letters from their church leaders.
Featherstone interpreted my actions as a threat to his beloved church and his letter was purely aimed at defending the church.

I had asked to be released because I had honest doubts and it was the right thing to do. I could not simply pretend that I was not troubled and continue on as bishop. At the time I was still shocked and confused and had not even decided that I was going to leave the Church.

Elder Featherstone later apologized for sending the letter without first talking to my Stake President (who was also surprised by the contents of his letter).
The area leaders initially questioned the validity of the science and assumed that my interpretation was incorrect. They were of the view that the American Indians were Lamanites and if the science doesn't agree with that conclusion then the science is wrong. I corresponded with Dr Woodward on about four occasions until I became even more convinced of the seriousness of the situation. In the midst of his lengthy defences of the Church he acknowledged that greater than 98% of American Indian DNA came from Asia and that this conflicts with current thinking in the church regarding the whereabouts of the Lamanites today. He confirmed that scientists at BYU had tested over 6000 American Indians from Peru and they came up with the same problem of virtually all the female DNA lineages coming from Asia. To date this research has not been published.
After communicating with scientists at BYU and reading numerous FARMS publications I wrote to the Area President detailing what I had learned and I asked for his advice. Should I accept the new FARMS theories limiting Lehi's impact to a small colonization and at the same time reject the words of the prophets or should I reject all the science and go back to what the Book of Mormon and prophets have said? This is the response I received soon afterwards.
Elder Featherstone's inclusion of dialogue I could memorize and quote to those inquiring about my status was particularly troubling. Like a mindless zombie I could say...
"We are all tried in different ways in the Church; and through those trials comes either increased faith and greater commitment, or a lost faith. I am committed to spending as much time as I need with the Book of Mormon, the Doctrine and Covenants and the Pearl of Great Price to get my previous witness back again as it was before."
The thought of memorising and then delivering these words to inquiring members was sickening. I had reached the end of the road. To stay an active Mormon it was clear what my future held. I would become a pariah and the subject of pity. The only way I could survive in the church would be to stop thinking, keep my doubts to myself, and lie to those brave enough to genuinely inquire about how I was getting on. Ironically, I would have become a "hollow shell" of the man I once was in the church.
By December 1998 my wife Jane and all of our children (aged between 5 and 15) had decided to stop attending the church. We moved to Canberra a few weeks later and we have never regretted our choice to this day. All of our children have happily grown to adulthood with no religious beliefs. They are wonderful people who are free to make their own choices and they are starting to make important contributions to their community.